Investing in our future

Helping future generations reach their potential
We provide scholarships to the children of our employees through our Reach Your Potential program. Recipients are awarded $1,000 each, to a maximum of $4,000 over a four-year period. In 2013, we awarded 21 scholarships.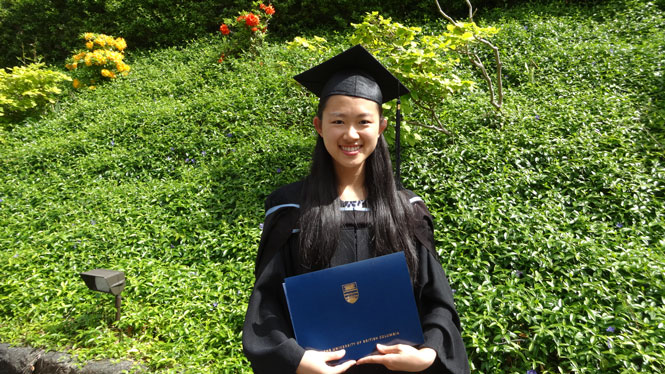 Meiying Zhuang (pictured above) is a four year recipient of the Reach Your Potential program. She recently graduated with a Bachelor in Science Honours in Physiology with Distinction, and will be starting the UBC MD Undergraduate Program in August, 2014, to earn her Doctor of Medicine degree.
Says Meiying,"With this scholarship, I have gained the precious time needed to excel in my studies and be highly involved in the UBC community, as well as pursue my artistic passions and make my contribution through research and volunteer work. Thank you for enabling me to continue towards my goal of a career in health care."
Health Scholarships
Pacific Blue Cross provides scholarships to dedicated students building careers in medical and dental care, business and actuarial sciences.
Kwantlen Polytechnic University Foundation
Nursing - $1,000 each year for four years
University of British Columbia
Pharmacy - $2,000
Dentistry Entrance - $1,000
Medical Entrance - $1,000
Simon Fraser University
Actuarial Science - $2,000
Management and Organizational Studies - $1,000
University of Victoria
School of Nursing Undergraduate - $2,000
Congratulations to all of our Reach Your Potential scholarship program recipients!