Just One More Day: Corey Hirsch addresses mental illness and workplace wellness across BC
Monday, Feb 7, 2022
Pacific Blue Cross co-sponsors a six-city speaking tour hosted by the Independent Contractors and Businesses Association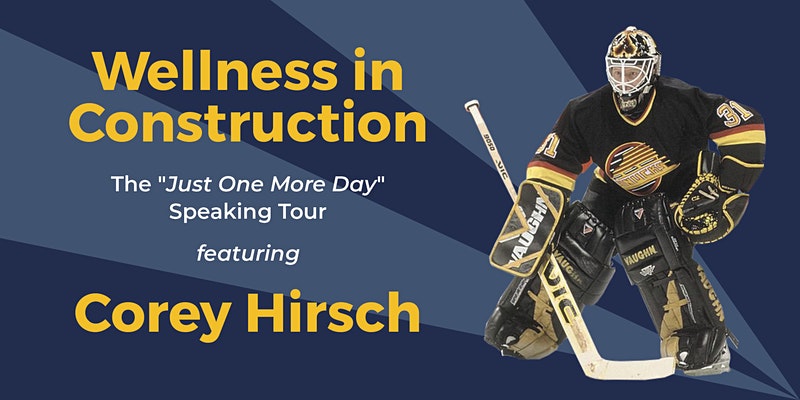 Pacific Blue Cross is excited to co-sponsor the Just One More Day speaking tour – which addresses key themes of mental health and workplace wellness.
The speaking tour features former Vancouver Canucks goaltender, Olympic Medalist, and mental health advocate, Corey Hirsch. Hirsch joined the Independent Contractors and Business Association (ICBA) as their Wellness Ambassador for 2022, and together they will work towards breaking down the stigma around mental health for ICBA members.
During the tour Hirsch reflects on his own challenges with mental illness, including when he was a professional hockey player in the NHL. During his time as a pro hockey player, Hirsch dealt with debilitating mental health challenges including anxiety, panic attacks, and suicidal thoughts. Unfortunately, at the time, it was not accepted for pro athletes to admit to mental health challenges, which meant Hirsh went undiagnosed and untreated for many years.
Eventually Hirsch was able to get the help he needed and is now committed to helping break down the stigma around mental health by promoting awareness and acceptance for those suffering from mental illness.
"All those years that I'd suffered and all I had to do was talk to somebody and get diagnosed."
      -Corey Hirsch
Watch Corey's story here:
With the mental health of many British Columbians worsening since the start of the pandemic, this is an important sponsorship for Pacific Blue Cross as we continue to try to keep the conversation around mental health going and provide the support services people need.
The Just One More Day tour kicked off in Surrey on January 21 and will visit the following cities across British Columbia:
Fort St. John – postponed – date TBD
Prince George – February 4
Kamloops – March 10
Kelowna – March 11
Victoria – April 13
The speaking tour is open to all ICBA members. Registration information for upcoming tour dates can be found here.